Saturday, July 13

M1 Concourse Event

8:30 a.m. - 2:00 p.m.

M1 Concourse

164 South Blvd. West, Pontiac


Event has been cancelled


Agenda
8:30 - 11:00 a.m.            Cars and Coffee
11:30 a.m. - 12:00 p.m.  Laura Wontrop Klauser, Cadillac Racing Program Manager
12:00 - 2:00 p.m.            M1 Thrill Ride
Back by popular demand! Starting at 8:30 a.m. Cars and Coffee will kick off their gathering with an awesome display of local classic and exotic cars. Then head over to the big tent from 11:30 a.m.  - 12:00 p.m. for a guest speaker and pizza before your M1 Thrill Ride.


The M1 Thrill Ride will have you experience 100 mph thrills around the 1.5 Mile Champion Motor Speedway in a ride-along with a professional driver. Ride shotgun for two Hot Laps in a high performance vehicle including a Dodge Hellcat.


M1 Concourse is an 87-acre playground, celebrating the automotive industry and the history of metro-Detroit. Already the largest development of its kind in the world, M1 offers an engineered 1.5-mile Performance Track, a 2.5-acre Skid Pad & Arena area along with the most beautifully-finished private garages to be found anywhere on the planet and home to the largest Cars and Coffee events in the country, the infamous Road Kill Nights Drag Races on Woodward, and many other public and private events throughout the year. A state-of-the-art Events & Conference Center will break ground in 2019 and will become one of the largest indoor event spaces in Oakland County.


Flyer
Sponsorship Form
Important Note:

 

Must be 18 years or older to participate.

 Registration will close July 8 (or when sold out). 

No onsite registration or refunds after July 3.


Speakers subject to change.


For more information, email Roxanne Loeffler or call (248) 324-4445 ext. 3.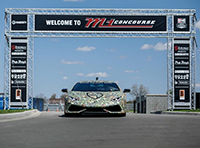 Jul 13