Volunteer opportunities are widespread throughout the Section from AWIM demonstrations in elementary school classrooms to organizing technical meetings or participating as a member of the Section Operations Board.
With its many programs, committees, and activities, there are ample opportunities to get involved with SAE Detroit Section. Give something back to the community, develop your "people" skills, and make friends with some wonderful people.
To find out how you can get involved, call the SAE Detroit Section office at (248) 324-4445 ext. 1 or send us a note here.
SAE Detroit Section Awards
SAE Detroit Section would like to congratulate the following award recipients for their outstanding contribution to the SAE Detroit Section in 2014. The award recipients were recognized at the Chevrolet Colorado and GMC Canyon Vehicle Event on Tuesday, June 2, 2015 at the San Marino Club in Troy.
Outstanding Section Member – Jeremy Goddard, IDIADA Automotive Technology
Outstanding Younger Member – Sujeesh Kurup, Frost & Sullivan
Outstanding Student Member – Justin Bekker, Wayne State University
Dedicated Service – David Andrea, OESA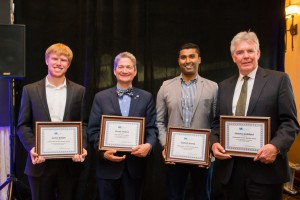 Nominations are being accepted for the 2015 calendar year and will be presented at the 2017 Chrysler Pacifica Vehicle Event on June 8, 2016.