Whitney Roberts
2021 SAE Detroit Section Chair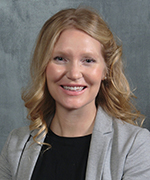 Whitney Roberts is Policy Lead of Advanced Vehicles at General Motors Company. She is responsible for identifying energy strategies, partnerships, and policies required to enable the broad market commercialization of GM's alternative fuel technology programs, including plug-in battery electric and hydrogen fuel cell electric vehicles. Through her work, Roberts envisions a cleaner and safer environment for future generations.
Roberts has an extensive and diverse background in regulations and certification of vehicles. Prior to becoming Advanced Vehicle Policy Lead, Roberts worked as a Type Approval Engineer within GM's Global Regulations and Certification team. In this role she type-approved the Cadillac CT6 for global markets, lead certification for GM North America Korean export vehicles, and was subject matter expert for global interior fittings regulations.
After graduating from Michigan State University where she was a four-year letter winner on the women's varsity swim team, she attended Cooley Law School where she obtained her Juris Doctorate degree. From there, she joined Nissan North America where she worked as a homologation engineer and became involved on the Operations Board of SAE Detroit Section. In 2013 she received the SAE Detroit Section Outstanding Younger Member Award. She is also involved with SAE International, participating on the Annual Giving Committee.
Roberts grew up in Michigan with her family. She now resides in Farmington Hills, Michigan with her husband Chip and their sons Caz and Winston.