Laura Wontrop Klauser
2018 SAE Detroit Section Chair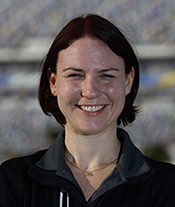 Laura Wontrop Klauser was born and raised near Baltimore, Maryland. She received her Bachelor's Degree in Mechanical Engineering from Rensselaer Polytechnic Institute (RPI) and Master's Degree in Engineering from the University of Michigan–Ann Arbor. Klauser began working at General Motors as a summer co-op student then started full time in 2008 after graduation from RPI. She's held various positions on different platforms including advanced design on the Corvette C7, releasing parts for the Cadillac CT6, and noise and vibration on the Chevrolet Cruze, Buick Encore, and Chevrolet Spark. Currently she is the Cadillac Racing Program Manager.
Klauser's SAE participation started as a student in Formula SAE. She remains an active member and volunteer for the FSAE program holding the roll of Dynamic Events Coordinator. Klauser joined the Detroit Section Board in 2011 and has served on the Membership and Programs committees. She led the Young Automotive Professionals Conference (YAPC) in 2012 and organized the ride and drive activities for YAPC 2016 at GM. She also serves on the GM SAE Leadership Committee supporting GM's participation at SAE events.
In the little spare time left, Klauser and her husband, Eric, participate in track day events with their Cobalt SS turbo or Corvette Grand Sport.