Saturday, February 16

Formula SAE ®, Internal Combustion Engine, Electric, and Hybrid Workshop

8:00 a.m.  - 4:00 p.m.
Lawrence Technological University, Southfield


Registration Extended to February 8!


This Workshop is designed to complement the Fall Workshop, and help Formula SAE IC, FSAE Electric, and Formula Hybrid teams with their vehicle development and with the events at the competitions. All Formula teams are encouraged to bring their vehicles to discuss challenges and share ideas. The FSAE Electric teams are especially encouraged to bring their vehicles.


What Will Be Covered
(Topics Subject to Change)
Competition overview

Design, Cost & Presentation Events
Flyer
2019 FSAE Workshop Agenda
Sponsorship Details
Campus Map
Building Map
Important Note: 

Registration will close Friday, February 8 (or when sold out).

 No onsite registration and no refunds after February 6. Early registration discount before January 30.


If you would like to sponsor the event, or for more information, email Roxanne Loeffler or call (248) 324-4445 ext. 3.


Hosted by Lawrence Technological University


Sponsored by Altair, Kaz Technologies and Mechanical Simulation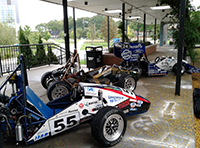 Feb 16