Saturday, October 27

Formula SAE ®, Internal Combustion Engine, Electric, and Hybrid Workshop
8:00 a.m.  - 4:00 p.m.
Lawrence Technological University, Southfield


Registration extended until Wednesday, October 17!


Join us for an interactive workshop designed to provide valuable information to make your Formula SAE design team more successful. Teams are encouraged to bring their vehicles to discuss challenges and share ideas.


The workshop will consist of a morning session with speakers covering various topics relating to the Formula SAE Competition, and a selection of breakout sessions will take place in the afternoon. Continental breakfast and lunch will be provided.


Topics include

:
Competition Overview

Design Consideration

Team Organization

Rule Changes
Sponsorship details
Campus map
Important Note: Workshop is open to all students. 

Registration will close October 15.

 No onsite registration or refunds after October 19. Times and speakers subject to change.


If you would like to sponsor the event, or need more information, email Roxanne Loeffler or call (248) 324-4445 ext. 3.


Hosted by Lawrence Technological University

Sponsored by Altair, Mechanical Simulation, Vector, Wacker Chemical Corp.,
Kaz Technologies, Performance Electronics, and TMI EP, LLC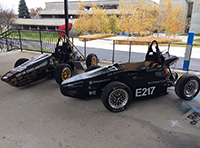 Oct 27