Wednesday, December 13

Indoor Go Karting

6:00 - 8:30 p.m.

JD Racing Indoor Karting 

44225 W. Twelve Mile Road - Fountain Walk, Novi


Event Cancelled due to Inclement Weather
Guests will have the opportunity to test their racing skills on high performance electric racing karts while meeting and networking with fellow SAE members and guests. These electric karts are full of powerful performance with razor-sharp responsiveness. They output no smell, produce minimal noise, and are capable of speeds up to 40 mph.


The track itself is an adrenaline-charged combination of fast-sweeping sections mixed with tight technical corners. State of the art timing and scoring system allows the drivers to receive on-track performance, lap time results, and the ability to track one's progress online.


Join us for the fastest growing sport in the United States and feel alive with the spine-tingling sensation of speed!


Registration and pizza will be served at 6:00 p.m. The event consists of 10 qualifying laps, 14 final race laps, and awards to the top three finishers.


Flyer
Important Note:
Event cancelled due to inclement weather. 
For more information, email Roxanne Loeffler or call (248) 324-4445 ext. 3.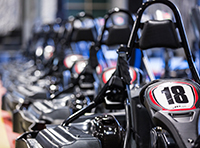 Dec 13