Saturday, February 18

Formula SAE®, Formula SAE® Electric & Formula Hybrid Workshop

8:00 a.m.  - 4:00 p.m.
Lawrence Technological University, Southfield
This Workshop is designed to complement the Fall Workshop, and help Formula SAE® and Formula Hybrid teams with their vehicle development and with the events at the competitions. Formula Hybrid and FSAE® Electric teams are especially encouraged to bring their cars, and the paperwork that is required for Technical Inspection, as these cars will be used in an afternoon break-out session on Getting through Electrical Technical Inspection. Other teams are also encouraged to bring vehicles to discuss challenges and share ideas.


What Will Be Covered

?
Competition overview
The Design, Cost & Presentation Events
Getting through Mechanical & Electrical Tech Inspections
Test Planning & Data Acquisition
Engine Calibration
Chassis & Suspension Development
Driving Techniques
Final Agenda
Flyer
Sponsorship Details
Campus Map
Building Map
Important Note:

Registration closed.

 No refunds after February 13. No onsite registration.


If you would like to sponsor the event, or for more information, email
Roxanne Loeffler
or call (248) 324-4445 ext. 3.
Hosted by Lawrence Technological University

Sponsored by Kaz Technologies, Mechanical Simulation, and solidThinking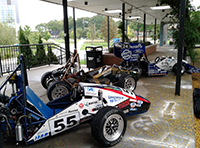 Feb 18