Tuesday, March 7, 2017

Various companies


Student Engineer Day gives collegiate students the opportunity to spend a day on the job shadowing the routines of a practicing engineer in the student's field of choice. This is a unique opportunity for students to gain insight into the engineering field and for companies to discover future engineering talent. Although the day is broad in scope, it still allows for individualization as students are matched with engineers who have similar interest. Participating students and engineers are encouraged to attend the Chevrolet Bolt EV Vehicle Event at the San Marino Club in Troy that evening from 5:30 – 8:30 p.m. Tickets are complimentary for Student Engineer Day participants and must be reserved by Tuesday, February 15.


Student Engineer Day may include a variety of activities, including tours, technical projects, hands-on experience and a chance to meet other colleagues. The format is flexible to meet the engineer's schedule and is personalized to add a greater depth of experience for both the student and engineer.


This is open to SAE student members only. Students are responsible for their own transportation and for making the initial contact with their assigned engineer. Companies generally assume the cost of the student's lunch. Participants will be notified by email prior to the event with respect to company/student placement.


Flyer
Important Note:
Registration closes at 4:00 p.m. on Wednesday, February 15.


For more information, email
Roxanne Loeffler
or call (248) 324-4445 ext. 3.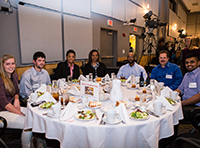 Mar 07