Tuesday, March 11

Nissan Rogue Vehicle Event

5:30 - 8:30 p.m.
Burton Manor
27777 Schoolcraft Road, Livonia
Agenda
5:30 - 6:30 p.m. Social Hour sponsored by Jatco
6:30 - 7:30 p.m. Dinner
7:30 - 8:30 p.m. Presentation
Speakers
Dan Heur
, Overseas Chief Vehicle Engineer for Common Module Family Vehicles, Nissan Technical Center North America
Todd Stroh
, Director of New Vehicle Production Engineering, Nissan North America - Smyrna
Scott Pak
, Regional Product Senior Manager, Nissan Crossovers, Nissan North America
SAE members and guests will have the opportunity to view the 2014 Nissan Rogue and hear a presentation from key members of the Nissan Team surrounding the development of the vehicle.
Click here
for flyer.
Important Note: Registration will close Friday, March 7 at 5:00 p.m. There will be no onsite ticket sales and no refunds after March 4.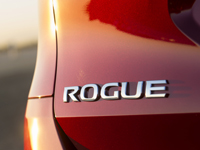 Mar 11