The Hype Cycle: Tracking the Impact of Emerging Automotive Technology

Thursday, October 15

11:30 a.m. - 12:30 p.m. ET

(Complimentary virtual event)


As the world's leading research and advisory company, Gartner is quick to recognize the impact of automotive technology. Gartner's 
2020 Hype Cycle pinpoints significant changes that automotive technology will have on society and business over the next five to ten years.


Join Michael Ramsey, Vice President, Analyst, Gartner and Bill Visnic, Editorial Director, Mobility Media, SAE International for a live casual conversation discussing 
the Hype Cycle for emerging automotive technologies. Topics discussed will include digital personalization, 5G, autonomous vehicles, electric vehicles,
connected car platforms, and much more.


REGISTER HERE
Important Note: You must register in advance to receive a link. Registration is limited.


For more information, email Stephanie White or call (248) 324-4445 ext. 6.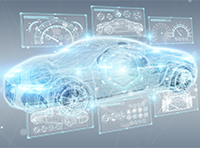 Oct 15